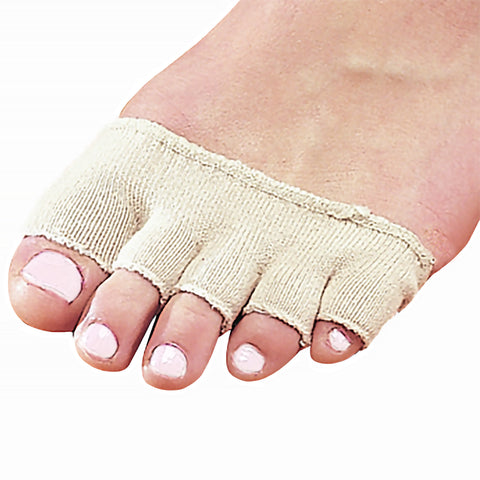 Toe Relief, 2-Pack
Finally! - Relief from blisters, calluses, bunions & corns!
Separates your toes!

Promotes healing between the toes!

Straightens and stretches toes!

Keeps your skin dry and healthy between the toes!

Avoid skin friction!

For both men and women!
This ingenious little Toe Relief gently separates your toes to prevent the forming of blisters, calluses, bunions and corns. It also helps relieve the pain from existing ones. Also gives relief to pinched and cramped toes and helps keep medical creams in place. Even helps prevent fungus and athlete's foot. Wear in any shoe or while sleeping. Soft, comfortable and lightweight. Very elastic material. Machine washable. 90% cotton, 10% spandex. One size fits most. For both men and women. Imported. 2-pack (one for each foot if needed).
This is not a medical device. Always consult your doctor if you have health problems. Results will vary. Not recommended for those with diabetes.
Toe wraps
These have rely helped with my pinky toe being sore and lumping up and slightly separates the other toes so there is no rubbing, Better than what the foot doctor told me to get.
Toe Relief
Wish I had bought these a long time ago!...My toes are feeling relief finally!
Toesies.
Great product and comfortable!
Toe Relief
these really helped my hammertoes...kept them from rubbing.....would recommend to anyone
Colors were nice. Merchandise arrived in a timely manner.
Toe stretcher and protector
I bought this because I have a piggyback toe...tons of therapy helped, but the ligaments keep tightening and pulling it back up and over. Thought I would try this item and by golly, it is working. My toe is staying flat and I'm finding that wearing it helps me especially when I'm up and on my feet, not when sleeping. It is only one foot, so I have two sleeves for the toes and can wear one while the other is washed and drying. Great item. Thank you.
---
We Also Recommend
---