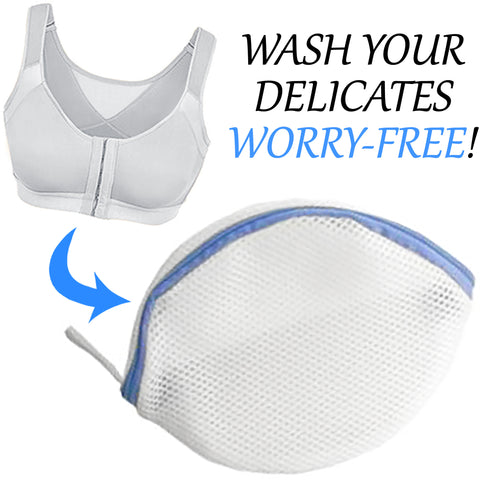 Lingerie Washing Bag
Wash even your delicate clothes and lingerie in the washing machine!
Protects your bras and delicates in the washing machine!

Perfect for all light clothing with thin fabric!

A must for lingerie with lace!

Saves you from having to hand wash!

Extra durable with double layers!

Will make your lingerie last longer!

Also works for hosiery and thin tights!

Use it for camis and bikinis with tiny strings!
This little miracle bag will save you time and make your delicate bras, panties and lace camis last longer. Protects your light fabric and lace delicates from pulling and tearing in the washing machine with other heavier clothing tumbling around with them. Comes with secure zipper closure to make sure your garment stays inside throughout the washing cycles. Mesh lets water and detergent through to thoroughly wash your garment. Buy several so you can wash all your bras in one load! Buy one for darker delicates and one for whites. Make sure to bring a couple on your trips. It only takes one washing to tear and destroy those delicates. Color: White.
Good quality for the price
Nice product
Best made lingerie bag I have ever had. Great product.
Wonderful
I really like these laundry bags for my bras. Before these bags, I would have trouble with the bra hooks catching on something else, even if I hooked them before putting them in the wash. Now, there is no problem and the hooks don't get caught on the bag. My better, fancier bras don't go into the dryer. With these bags, it its so easy finding my bras so I can air dry them. Would highly recommend.
Perfect size!
Nice small bag. Good quality. I've needed one for a long time. Finally saw this one and ordered it. Perfect for delicate fabrics.
---
We Also Recommend
---