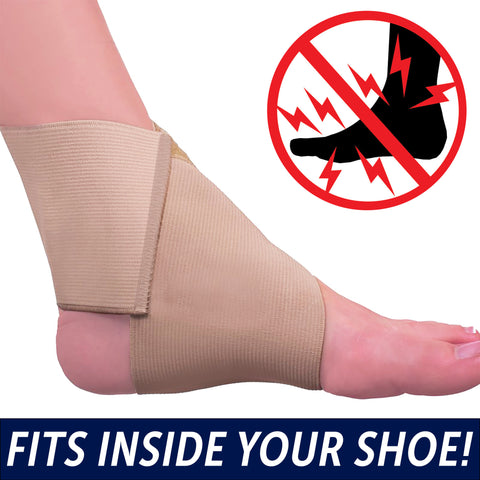 Lightweight Ankle Support
Instant relief and support for your ankles!
Wraps around your ankle for wonderful support and stability!

Lightweight and sleek – even fits inside your shoe!

You barely feel it's there – yet does wonders for your sore ankle!

Adjustable velcro for a perfect fit!

Easy to adjust during the day!

Lets you live a more active life!

Fits both left and right ankle!

So easy to put on!

For both men and women!

Comfortable and breathable material!
Enjoy your walks again! Don't let pain in your ankle stop your activities. This sleek and lightweight ankle wrap fits right in your shoe and provides the support you need. Perfect for weak or strained ankles. Use even in your dress shoes. Can be worn during all sorts of activities from sports, walking, biking, housework and just any day-to-day activity. Not bulky as many other ankle supports are, so it does not hinder you in your activities. Wear it all day or as needed. Easily adjustable during the day. Fits both your right and your left ankle. Easy to keep in your sports bag for added support during your favorite activity! For men and women of all ages!
Not a medical device. This product is not intended to treat, cure or prevent any disease. Always consult your doctor if you have health problems or injured ankles. If you have diabetes, consult your doctor on how to use the Ankle Support!
---
We Also Recommend
---